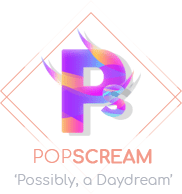 Etsy Shop
Instagram
To my beloved friends, customers and visitors of PopScream,
A big big thank you and hug to every single of my amazing customers, guests and friends for being around for so long, for supporting me all this time and enjoying my work for more than a decade! Ever since I opened PopScream back in 2009, I've worked with - and become friends with - so many beautiful people, done so many amazing collaborations with other artists, coded tons and tons of layouts for so many of you all and spent so many cozy nights chilling and chatting on IMVU!
Its been a heartwarming experience that lasted for more than 12 years now and I wouldn't change a single part of this journey, ever. Im forever grateful for everything i've learned over the years and I couldn't be happier to have made so many IMVU users smile when visiting their pages!
As time passes, we grow up, our rooms change, our ideas shift and the world just keeps spinning. I've decided to finish this beautiful journey on IMVU with a happy ending 😌. As I close this important chapter in life, I am looking forward to the new opportunities that will come with this big change.
I thank you all for everything,
-Your PopScream
What is going to happen to PopScream Shop on IMVU?
The shop will be open for IMVU mass-sale orders until the 1st of July 2021. Due to recent IMVU confusion with whether IMVU links are allowed or not, i have decided to close my shop a bit earlier as well. Any orders after this date are not going to be fullfiled nor accepted. The final closing of the IMVU shop including maintenance work and repairs will happen on the 15. Sept 2021. After this date, my account on IMVU will no longer be active and messages will no longer be replied.
What is going to happen to this website?
No worries! :) The website is gonna be active. Ill continue to draw and make scenery art but mainly focus on my Etsy shop. I'll transform this website into another shop platform for Twitch Items and also try to make it half/half my portfolio for artwork as well.
Can i still order a homepage? What happens if i get a VIP Pass? 💜
Yes! You can still order a mass-sale homepage until the 1st of July 2021. If you receive a VIP pass in the period 1. June 2021 - 1st. July 2021 it can only be redeemed until 15. August 2021.
What if my homepage breaks and i need help? 😰
I'll provide 4 months (1. Sep 2021) of strict maintenance work to any errors or broken homepages, that have solely happened because of possible server bugs or difficulties on my end. Cosmetic work and changes such as name changes, color changes, tab changes, are to be requested until the 15th of July 2021. After this date cosmetic changes, tab changes nor name changes can no longer be requested.
I have a VIP Pass. Until when can i redeem it? 💖
A notification will be sent to each VIP PS customer. Please redeem your VIP Pass in the next 3 months (until 15. August 2021). After this date, all remaining VIP Passes that have not been redeemed will be cancelled automatically.
Is your Etsy shop also going to close?
No. My Etsy shop will remain open.
Where can i still keep in touch with you? 💌
I'll continue to draw and get better at scenery art and post my progress on my Instagram! I just love drawing cozy rooms with coffee, for some reason haha. That's what relaxes me the most.
Important Dates: 🤚
1st. July 2021 - Deadline for all new orders + 15th. July for homepage change requests.
15. August 2021 - Deadline for redeeming VIP Pass.
1. September 2021 - Deadline for maintenance work and homepage bug fixes.
A little quiz for you! ;)